Today we announce the improvements coming in Nextcloud Talk 9. This includes the introduction of a grid view, easy sharing of files with drag and drop and build in viewing and editing of files and documents that will help teams be more productive. The Talk team also has worked hard to improve the performance and scalability of Talk, for example by decreasing video quality when more people join. This will allow calls with 5 to 10 people to work on a standard Talk instance, provided users have a decent network connection.
Most performance improvements are also made available to earlier releases to help users on the current Nextcloud Hub release.
Nextcloud Talk 9 is planned to come with the release of Nextcloud Hub version 19 in a few weeks. Download the release candidate today, install the Talk app and help test!
Open sourcing the high performance back-end
Over the last months we have been flooded with requests to make the high performance back-end for Talk, developed by our partner, Struktur AG, available for everyone. We are delighted to announce today that Struktur AG has agreed to open source the high performance back-end! This makes it possible for many small schools, charities and other organizations to deploy Nextcloud and scale to larger numbers of users. See below for details.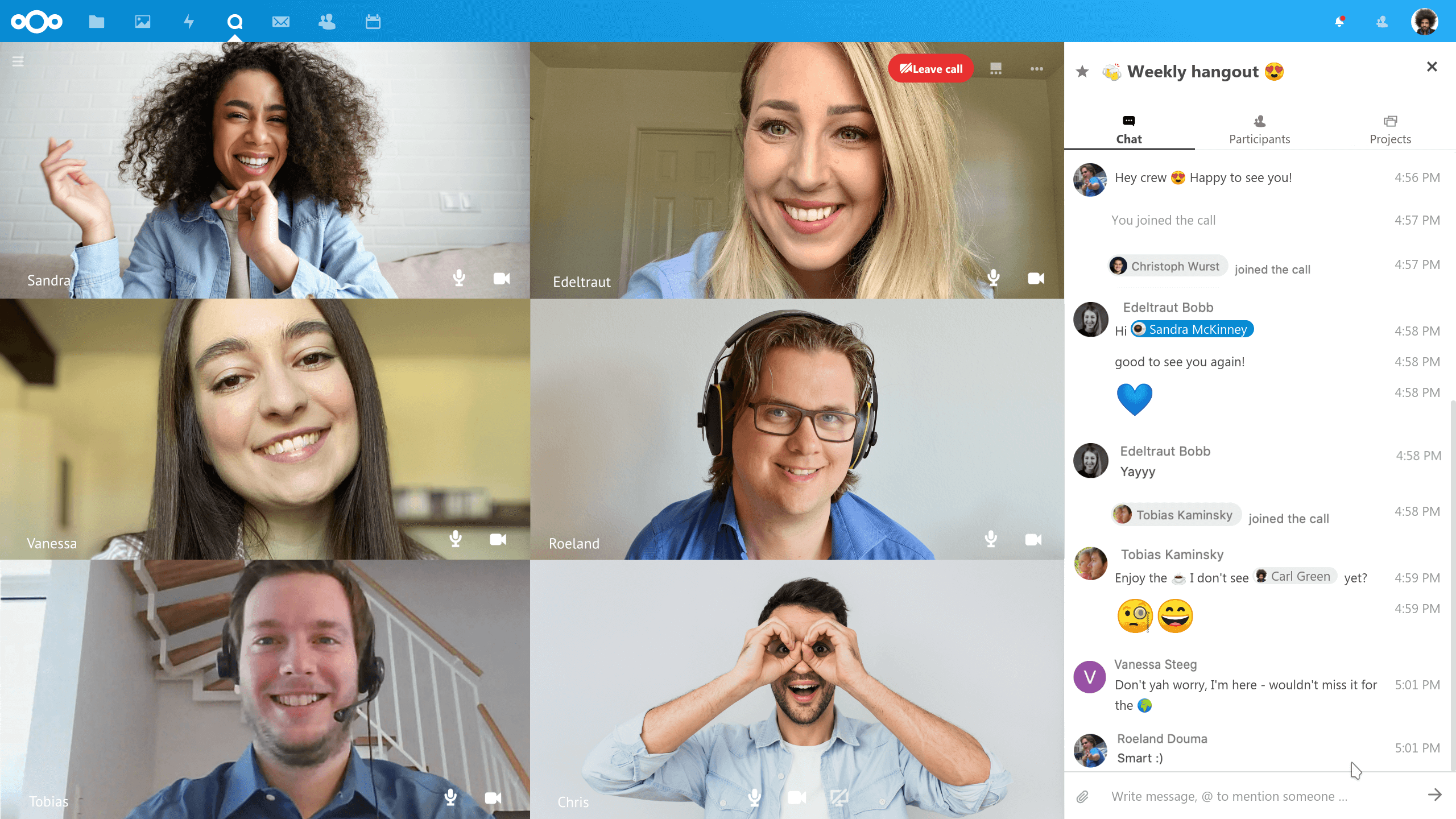 Find our official press release here.
Talk 9: a new generation of integrated communication
Nextcloud Talk 9, part of the upcoming Nextcloud Hub release, will introduce a wide range of improvements to help the productivity of teams sharing and collaborating on documents.
Easier sharing of files
Our first priority was to make it easier to share, view and edit documents. Besides sharing a file from the file view into a Talk room, you can now just drag'n'drop a file in a chat to make it available to the other participants. Most of those files no longer open up in a new tab – you can view images, videos and even office documents right there, and in case of documents, edit them!
We also added a configuration setting so you can choose where documents shared with you in a Talk chat are stored.
Calls with more participants
We overhauled the video conferencing view, in multiple ways. First, the normal view where the speaker is shown big, now has a scrolling participant list on the bottom, instead of resizing the videos to thumbnails. And by clicking on somebody's video feed you can view that person big – click the promoted speaker button to continue automatically seeing whoever is talking.
The second, and bigger change, is the introduction of a grid view. This will allow even dozens of participants to be visible on one screen during your calls! Here, too, you can select a speaker and switch to the promoted view to see their video big.
We also improved handling of adding participants, added the ability for moderators to turn off microphones of participants and the ability to limit creating conversations to a specific group.
Better performance and lower network load
Sending, receiving and in particular decoding multiple high definition video streams is unsurprisingly a rather heavy operation on both the computer hardware as well as the network that has to deal with it. The Talk team has been very hard at work to let Talk automatically adjust video quality depending on the number of participants in a call, enabling calls with far more people at once!
Talk 9 will also introduce back-end clustering to improve the scalability of server setup and improved connection management and error handling and reporting.
We considered these improvements so important that we back-ported them to Talk 8, making them available to users on Nextcloud Hub version 18.
Much improved mobile apps
To get a better chat experience, both the Android and iOS mobile apps now have 'offline support', meaning they cache the chat messages, chat rooms and participant lists. The Android app also underwent a big user interface overhaul and the iOS app has had accessibility and usability improvements in many places. A short list of further improvements:
iOS:
muting participants
support for limiting the creation of conversations
speaker indicator
temporary messages and re-sending failed messages
Android:
application shortcuts (long press on launcher icon for easy access to recent conversations)
inviting users to a conversation by email or circle
swipe to reply
Open sourcing the high-performance back-end
The crisis created a high demand at schools, government and businesses for remote communication solutions. Many of them quickly signed up to public cloud technologies and then watched in horror how data leaks, compliance problems and security issues came to light and were widely reported in the press. To protect their data, a secure, on-premises and open source platform would be the perfect solution. There are solutions for file sharing, video/audio chat and groupware, but there is only one really integrated, easy to use platform that can do all: Nextcloud Hub.
Over the last months we've worked tirelessly to help our customers set up and scale up their Nextcloud servers, with file sharing, video chat and office document editing all urgently needed. For communication at larger scale, in calls with 10 to 50 participants, the Talk High Performance Back-end is needed, a server component developed by our partner, Struktur AG. To support organizations in difficult times, Struktur has agreed to make the high-performance back-end freely available under the AGPL license.
To help organizations who might not have the resources to host the back-end themselves, Struktur will also be offering a hosted solution with a 30 days free trial. More info and sign up here.
We will continue to offer our services and support to customers for deploying Nextcloud Hub, ensuring a speedy roll-out and smooth operation. You can contact us to discuss what you need through our website form.
When, where and how
As mentioned, much of the performance work was back-ported to Talk 8, already available with version 8.0.9! Be sure to keep your apps up-to-date to benefit from the latest bugfixes and improvements.
The feature improvements will come to Talk 9 which requires the upcoming Nextcloud Hub release. Version 19 is scheduled for release in a few weeks but you can test out release candidates of Nextcloud Hub and Nextcloud Talk today!
Find the source code of signaling server by Struktur AG here. Their hosted offering can be found here.
With this release, Nextcloud Talk cements its position as the only on-premises content collaboration platform on the market with native integrated audio/video chat ready for large organizations. This provides the best solution for thousands of organizations across the globe to keep their communication confidential and prevent their data from leaking!
A big Thank YOU! goes to all our contributors, developers, testers and the wider community who help make this happen!