On June 15, we are organizing a webinar about MariaDB Galera cluster performance optimization for Nextcloud servers. Starting at 10:00 AM CEST, the webinar features Björn Schiessle, Pre-sales lead at Nextcloud, and Ashraf Sharif, senior support engineer at Severalnines. The team will walk you through the Nextcloud architecture, database design and the performance tuning of both.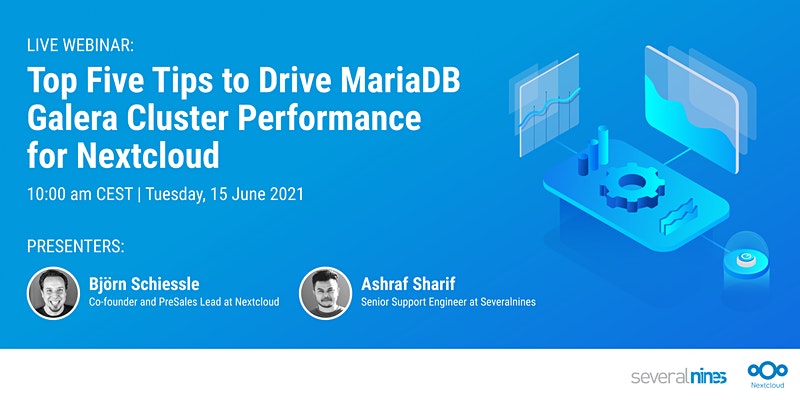 Severalnines: full-ops database management
Severalnines provides automation and management software for open source databases. They help companies deploy their databases in any environment and manage all operational aspects to achieve high-scale availability.
Severalnines'​ popular product, ClusterControl, is used by developers and administrators of all skills levels to provide the full 'deploy, manage, monitor, scale'​ database cycle, thus freeing them from the complexity and learning curves that are typically associated with highly available database clusters.
ClusterControl is an integrated deployment, monitoring, and management automation system for open source databases which provides holistic, real-time control of your database operations in an easy and intuitive experience.
At the core of ClusterControl is it's automation functionality that lets users automate many of the database tasks performed regularly like deploying new clusters, adding and scaling new nodes, detecting anomalies, managing failover, recovery, backups and upgrades and much more across local data centers and multiple clouds. It incorporates the best practices learned from thousands of customer deployments in a comprehensive system that helps users manage open source databases safely and reliably.
Severalnines has enabled over 12,000 deployments to date via its popular product ClusterControl. Currently counting BT, Orange, Cisco, CNRS, Technicolor, and Eurovision as customers. Renater uses ClusterControl to manage its MariaDB Cluster backends for Nextcloud, to ensure the database is performing with all maintenance completely automated.
About the webinar
Nextcloud uses its database to store a wide of range of data, from file meta data to calendar files and chat logs. A poorly performing database can have a serious impact on performance and availability of Nextcloud. MariaDB Cluster is the recommended database backend for production installations that require high availability and performance.
This talk is a deep dive into how to design and optimize MariaDB Galera Cluster for Nextcloud. We will cover 5 tips on how to significantly improve performance and stability.
Agenda:
Overview of Nextcloud architecture
Database architecture design
Database proxy
MariaDB and InnoDB performance tuning
Nextcloud performance tuning
Q&A
Learn more and sign up now on eventbrite!